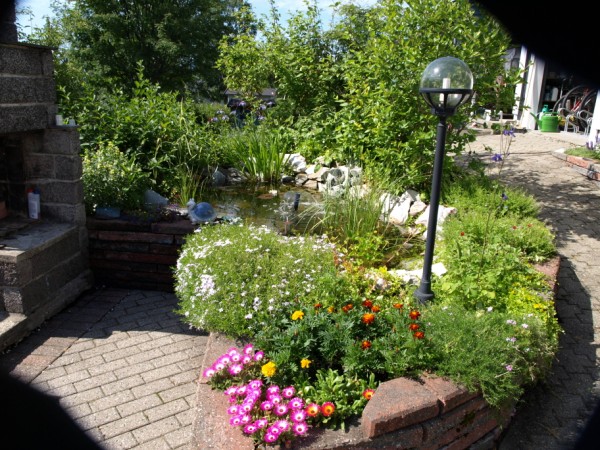 Dammen er på ca. 1200 liter.
Den er gravd ut i et tidligere blomsterbedd som er bygd opp med knekkheller.
I bunnen har jeg lagt fiberduk, for så å legge Pvc duk. Jeg har fylt opp med singel og litt store steiner i bunn.
Om sommeren går det 15 gullfisker i dammen. Jeg setter fiskene ut i midten av mai og tar de inn i sept/okt. For to år siden fikk jeg yngel på gullfikene mens de var ute i dammen.
I dammen har jeg to vannliljer den ene er en Attraction og en iris som blomstrer hvert år til tross for at hagedammen bunnfryser hver vinter.
Jeg har også bekkeblom og noe vanngress jeg hentet i et fjellvann.
På bilde er det en blomst på vannliljen. Jeg får gjerne tre til fire blomster i løpet av sommeren.
Det er gøy å se at vannliljene blir større og større toss for at dammen bunnfryser hvert år.
Jeg har bygd opp en liten bekk i den ene enden av dammen. Jeg bruker en Easy Jet 5000 til pumpe.
Denne har jeg koblet til et filter som jeg har gravd ned utenfor dammen. Filtret har uv lys som tar det meste av algene.
Dammen ligger rett i sør og får mye sol, på sommeren må jeg bruke en del Oxyper for å holde dammen fri for trådalger.
Mitt bruk av oxyper virker ikke som om det påvirker hverken fisk eller planter.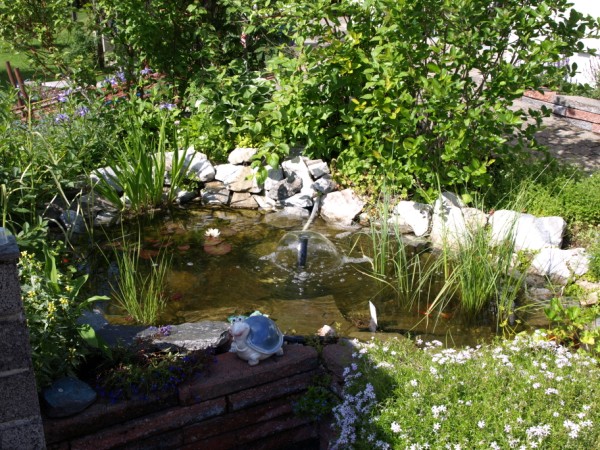 Like ved dammen har jeg hagebelysning, samt at jeg har lys som er montert på fontenen, slik at strålen blir opplyst. Siden vi her i nord Norge har det lyst hele døgnet, kommer ikke lyset til sin rett før utpå høsten.
Jeg har også kjøpt en liten sak som krystaliserer vannet og gjør at jeg får damp som siver ut ved bekken og legger seg over dammen som et tåke teppe.