Dammen er på ca 50.000 l.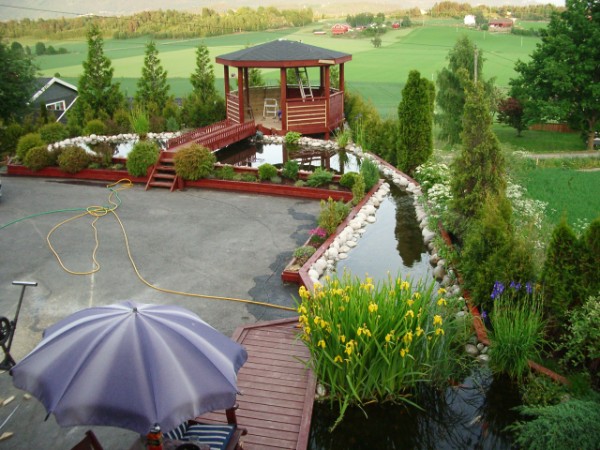 Den er 32 m lang, 4,2 bred og 2 m dyp på det dypeste.
Bekken har løftehøyde 2.5 m og er 30 cm bred med 3 fossefall og en kulp på 200 l med lavastein for biofiltrering.
Bekken drives av 16.000 liter pumpe og filter er Flerkammerfilter og Nexus 300 filter drives av PG15000 liters pumpe og luftpumpe 4.200 l og går ut i sumpen.
Ytre del av dammen har PG28000 liters pumpe som driver ett 110w uv filter og pumper vannet gjennom den grunne kanalen, 20-40 cm dyp med elvesand som bunnmatriale.
Her fores det med mais i kanalen og der går koien og beiter mygglarver.
Ca 50 koi, hvor noen har blitt født der. 30 gullfisk i forskjellige utgaver og de yngler så mye at vi gir bort mange. pvc duk er brukt, skjøtet og limt en rekke ganger uten problemer. Har en granittbro over bekken, to broer av tre med to spotlighter under hver av dem.
Den ene brua går over sumpen, den andre over det bredeste på dammen og inn i lysthuset som står på påler med rullestein og beplantning rundt. Bekkeblom, flere typer iris,dunkjevler,flyteplanter og vannliljer fra skog og gartneri.